While Catti paves the way in our 26 Week Toddler Alphabet Series, I'm working with my 5 year old on an older version of the series and even attempt to involve my 14 month old as well.
A for Alphabet seems like the perfect starting point and while Landon is familiar with all the letters of the alphabet, we are now working on beginning to read which means: read, read and read some more! We headed to the library to begin the week and grabbed two alphabet books, but also included our own Arthur book and a bilingual Animal board book for Luke.
I've recently become intrigued with the Montessori style of teaching and found that when teaching letters, they emphasize the sound of a letter, versus the name of a letter. Since Landon knows the names of the letters, this series is the perfect starting point to work on the sounds of the alphabet and the early early stages of reading!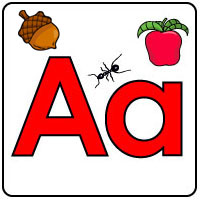 Other activities focus on Landon working on writing the letters (uppercase and lowercase). He has a couple work books with letter activities, but we work on the Fisher Price Doodle, drawing the letters in his sensory colored rice bin (which Luke dumped onto the carpet last night, need to make a new batch of rice!), play doh, even using his trains and train tracks!
Now that Landon is 5, his responsibilities have increased around the house, one of which includes deciding on one dinner a week to help prepare and cook. Landon and I picked up some Apples and Avocado for the week to incorporate in our meals and plan on tying in foods that begin with the coordinating letter each week.
We can't wait for the weeks ahead and hope you join us!